Mécanismes impliqués dans la spécification et la détermination des différents types cellulaires pancréatiques pendant l'ontogenèse.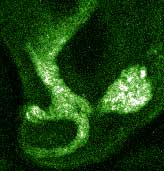 Système digestif d'une souris transgénique EGFP
Nous étudions les mécanismes impliqués dans la spécification et la détermination des différents types cellulaires pancréatiques pendant l'ontogenèse. En particulier, nous sommes intéressés à l'origine des cellules produisant l'insuline. Ces études sont réalisées grâce à la production de souris transgéniques, dans le cadre de 3 projets différents. 1) Dans le but d'étudier les lignages cellulaires des îlots de Langerhans, nous marquons les cellules progénitrices, dans des souris doublement transgéniques, avec le système Cre / loxP. En effet, il est possible marquer des cellules souches irréversiblement (génétiquement) avec l'activité de la recombinase Cre. Le gène rapporteur (portant les séquences loxP) ainsi modifié est ensuite analysé dans les îlots adultes. 2)Les cellules en voie de différenciation doivent faire des choix qui sont déterminés, en partie au moins, par la voie de signalisation de Notch. Nous avons généré plusieurs lignées de souris dans lesquelles Notch1 a été inactivé sélectivement dans un ou plusieurs types cellulaires pancréatiques. 3) La capacité de régénération de nouveaux îlots dans le pancréas adulte est étudiée et comparée aux processus, déjà connus en partie, prenant place au cours du développement embryonnaire.
---
Publications du groupe
Insulin Signaling in alpha Cells Modulates Glucagon Secretion In Vivo
CELL METABOLISM
2009 vol. 9(4) pp. 350-361
KAWAMORI D, KURPAD AJ, HU H, SHIH JL, FORD E, HERRERA PL, POLONSKY KS, MCGUINESS OP, KULKARNI RN
Pancreatic neurogenin 3-expressing cells are unipotent islet precursors
DEVELOPMENT
2009 vol. 136(21) pp. 3567-3574
DESGRAZ R, HERRERA PL
Transgenic and other experimental models of pancreas and islet damage.
DIABETES, OBESITY AND METABOLISM
2009 vol. 11 pp. 91-96
HERRERA PL
Pancreatic Inactivation of c-Myc Decreases Acinar Mass and Transdifferentiates Acinar Cells Into Adipocytes in Mice
GASTROENTEROLOGY
2009 vol. 136(1) pp. 309-319
BONAL C, THOREL F, AITLOUNIS A, REITH W, TRUMMP A, HERRERA PL
Deletion of Glutamate Dehydrogenase in beta-Cells Abolishes Part of the Insulin Secretory Response Not Required for Glucose Homeostasis
JOURNAL OF BIOLOGICAL CHEMISTRY
2009 vol. 284(2) pp. 921-929
CAROBBIO S, FRIGERIO F, RUBI BLANCA, VETTERLI L, BLOKSGAARD M, GJINOVCI A, POURNOURMOHAMMADI S, HERRERA PL, REITH W, MANDRUP S, MAECHLER P
Deletion of the von Hippel-Lindau gene in pancreatic beta cells impairs glucose homeostasis in mice
JOURNAL OF CLINICAL INVESTIGATION
2009 vol. 119(1) pp. 125-135
CANTLEY J AND AL.
Experimental models of beta-cell regeneration.
BIOCHEMICAL SOCIETY TRANSACTIONS
2008 vol. 36(Pt 3) pp. 286-289
BONAL C, AVRIL I, HERRERA PL
A new conditional mouse mutant reveals specific expression and functions of connexin36 in neurons and pancreatic beta-cells.
EXPERIMENTAL CELL RESEARCH
2008 vol. 314(5) pp. 997-1012
WELLERSHAUS K, DEGEN J, DEUCHARS J, THEIS M, CHAROLLAIS A, CAILLE D, GAUTHIER BENOIT, JANSSEN-BIENHOLD U, SONNTAG S, HERRERA PEDRO, MEDA P, WILLECKE K
Peripheral tolerance limits CNS accumulation of CD8 T cells specific for an antigen shared by tumor cells and normal astrocytes.
GLIA
2008 vol. 56(15) pp. 1625-1636
CALZASCIA T, LOH JM, DI BERARDINO-BESSON W, MASSON F, GUILLAUME P, BURKHARDT K, HERRERA PL, DIETRICH PY, WALKER PR
Genes controlling pancreas ontogeny.
INTERNATIONAL JOURNAL OF DEVELOPMENTAL BIOLOGY
2008 vol. 52(7) pp. 823-835
BONAL C, HERRERA PL
Role of furin in granular acidification in the endocrine pancreas: identification of the V-ATPase subunit Ac45 as a candidate substrate.
PROCEEDINGS OF THE NATIONAL ACADEMY OF SCIENCES OF THE UNITED STATES OF AMERICA
2008 vol. 105(34) pp. 12319-12324
LOUAGIE T AND AL.
Understanding the extrinsic and intrinsic signals involved in pancreas and beta-cell development: from endoderm to beta cells
CURRENT OPINION IN ORGAN TRANSPLANTATION
2007 vol. 12 pp. 40-48
BONAL C, HERRERA PL
Unique mechanisms of growth regulation and tumor suppression upon Apc inactivation in the pancreas
DEVELOPMENT
2007 vol. 134 pp. 2719-2725
STROM A, BONAL C, ASHERY-PADAN R, HASHIMOTO N, CAMPOS ML, TRUMPP A, NODA T, KIDO Y, REAL FX, THOREL F, HERRERA PL
Increasing uncoupling protein-2 in pancreatic beta cells does not alter glucose-induced insulin secretion but decreases production of reactive oxygen species
DIABETOLOGIA
2007 vol. 50 pp. 84-93
PRODUIT-ZENGAFFINEN N, DAVIS-LAMELOISE N, PERRETEN H, BECARD D, GJINOVCI A, KELLER PA, WOLLHEIM CB, HERRERA P, MUZZIN P, ASSIMACOPOULOS-JEANNET F
Pancreatic deletion of insulin receptor substrate 2 reduces beta and alpha cell mass and impairs glucose homeostasis in mice
DIABETOLOGIA
2007 vol. 50 pp. 1248-1256
CANTLEY J, CHOUDHURY AI, ASARE-ANANE H, SELMAN C, LINGARD S, HEFFRON H, HERRERA P, PERSAUD SJ, WITHERS DJ
The GluCre-ROSA26EYFP mouse: A new model for easy identification of living pancreatic alpha-cells
FEBS LETTERS
2007 vol. 581 pp. 4235-4240
QUOIX N, CHENG-XUE R, GUIOT Y, HERRERA PL, HENQUIN JC, GILON P
Embryonic endocrine pancreas and mature beta cells acquire alpha and PP cell phenotypes upon Arx misexpression
JOURNAL OF CLINICAL INVESTIGATION
2007 vol. 117 pp. 961-970
COLLOMBAT P, HECKSHER-SORENSEN J, KRULL J, BERGER J, RIEDEL D, HERRERA PL, SERUP P, MANSOURI A
Activation of the Reg family genes by pancreatic-specific IGF-I gene deficiency and after streptozotocin-induced diabetes in mouse pancreas
AMERICAN JOURNAL OF PHYSIOLOGY. ENDOCRINOLOGY AND METABOLISM
2006 vol. 291(1) pp. 50-58
LU Y, PONTON A, OKAMOTO H, TAKASAWA S, HERRERA PL, LIU JL
Stabilization of beta-catenin impacts pancreas growth
DEVELOPMENT
2006 vol. 133(10) pp. 2023-2032
HEISER P, LAU J, TAKETO MM, HERRERA PL, HEBROK M
An amylase/Cre transgene marks the whole endoderm but the primordia of liver and ventral pancreas
GENESIS
2006 vol. 44 pp. 287-296
KOCKEL L, STROM A, DELACOUR A, NEPOTE V, HAGENBUCHLE O, WELLAUER PK, HERRERA PL
Ablation of PDK1 in pancreatic beta cells induces diabetes as a result of loss of beta cell mass
NATURE GENETICS
2006 vol. 38(5) pp. 589-593
HASHIMOTO N. ET AL.
Foxa2 is required for the differentiation of pancreatic alpha-cells
DEVELOPMENTAL BIOLOGY
2005 vol. 278 pp. 484-495
LEE C.S., SUND N.J., BEHR R., HERRERA P.L., KAESTNER K.H.
Mice conditionally lacking the Wolfram gene in pancreatic islet beta cells exhibit diabetes as a result of enhanced endoplasmic reticulum stress and apoptosis.
DIABETOLOGIA
2005 vol. 48(11) pp. 2313-2321
RIGGS AC, BERNAL-MIZRACHI E, OHSUGI M, WASSON J, FATRAI S, WELLING C, MURRAY J, SCHMIDT RE, HERRERA PL, PERMUTT MA
Junctional Adhesion Molecule-C regulates the early influx of leukocytes into tissues during inflammation
JOURNAL OF IMMUNOLOGY
2005 vol. 174 pp. 6406-6415
AURRAND-LIONS MICHEL, LAMAGNA CHRYSTELLE, DANGERFIELD JP, WANG S, HERRERA PEDRO, NOURSHARGH S, IMHOF BEAT
Pax2 mutant mice display increased number and size of islets of Langerhans but no change in insulin and glucagon content.
EUROPEAN JOURNAL OF ENDOCRINOLOGY
2004 vol. 150 pp. 389-395
ZAIKO MAIA, ANNE ESTREICHER, RITZ BEATE, HERRERA PEDRO, JACK FAVOR, MEDA PAOLO, PHILIPPE JACQUES
Replacement by a lacZ reporter gene assigns mouse connexin36, 45 and 43 to distinct cell types in pancreatic islets.
EXPERIMENTAL CELL RESEARCH
2004 vol. 294 pp. 18-29
MARTIN THEIS, MAS CHRISTOPHE, BRITTA DÍRING, JOACHIM DEGEN, CHRISTOPHER BRINK, DOROTHEE CAILLE, CHAROLLAIS ANNE, OLAF KR▄GER, ACHIM PLUM, NEPOTE VIRGINE, HERRERA PEDRO, MEDA PAOLO, KLAUS WILLECKE
Islet beta-cell secretion determines glucagon release from neighbouring alpha-cells.
NATURE CELL BIOLOGY
2003 vol. 5 pp. 330-335
ISHIHARA H, MAECHLER P, GJINOVCI A, HERRERA PL, WOLLHEIM CB
Reduced PTEN expression in the pancreas overexpressing transforming growth factor-beta 1.
BRITISH JOURNAL OF CANCER
2002 vol. 86(2) pp. 257-262
EBERT MP, FEI G, SCHANDL L, MAWRIN C, DIETZMANN K, HERRERA PL, FRIESS H, GRESS T, MALFERTHEINER P
Experimental models of transcription factor-associated maturity-onset diabetes of the young.
DIABETES
2002 vol. 51 pp. 333-342
WANG H, HAGENFELDT-JOHANSSON K, LUC A. OTTEN, GAUTHIER BR, HERRERA PL, WOLLHEIM CB
Pancreatic cell lineage analysis in mice
ENDOCRINE
2002 vol. 19 pp. 267-278
HERRERA PL, NEPOTE V, DELACOUR A
Generation of Smad4/Dpc4 conditional knockout mice.
GENESIS
2002 vol. 32(2) pp. 80-81
YANG X, LI C, HERRERA PL, DENG CX
Defining the cell lineages of the islets of Langerhans using transgenic mice.
INTERNATIONAL JOURNAL OF DEVELOPMENTAL BIOLOGY
2002 vol. 46(1) pp. 97-103
HERRERA PL
Defective insulin secretion in pancreatic beta cells lacking type 1 IGF receptor.
JOURNAL OF CLINICAL INVESTIGATION
2002 vol. 110(7) pp. 1011-1019
XUAN S, KITAMURA T, NAKAE J., POLITI K, KIDO Y, FISCHER P.E., MORRONI M, CINTI S, WHITE M.F., HERRERA PL, ACCILI D, EFSTRATIADIS A.
▀-cell-targeted expression of a dominant-negative hepatocyte nuclear factor-1a induces a maturity-onset diabetes of the young (MODY)3-like phenotype in transgenic mice
ENDOCRINOLOGY
2001 vol. 142 pp. 5311-5320
HAGENFELDT-JOHANSSON KA, HAGENFELDT J, HERRERA PL, WANG H, GJINOVCI A, ISHIHARA H, WOLLHEIM CB
Two transgenic approaches to define the cell lineages in endocrine pancreas development
MOLECULAR AND CELLULAR ENDOCRINOLOGY
1998 vol. 140 pp. 45-50
HERRERA PL, ORCI L, VASSALLI JD
TGF-beta 1 influences the relative development of the exocrine and endocrine pancreas in vitro
DEVELOPMENT
1994 vol. 120 pp. 3451-3462
SANVITO F, HERRERA PL, HUARTE J, NICHOLS A, ORCI L, VASSALLI JD
A CD8+ T-lymphocyte-mediated and CD4+ T-lymphocyte-independent autoimmune diabetes of early onset in transgenic mice
DIABETOLOGIA
1994 vol. 37 pp. 1277-1279
HERRERA PL, HARLAN DM, FOSSATI L, IZUI S, HUARTE J, ORCI L, VASSALLI JD, VASSALLI P
Induction of diabetes is influenced by the infectious virus and local expression of MHC class I and tumor necrosis factor-alpha
JOURNAL OF IMMUNOLOGY
1993 vol. 150 pp. 11-
OHASHI PS, OEHEN S, AICHELE P, PIRCHER H, ODERMATT B, HERRERA PL, HIGUCHI Y, BUERKI K, HENGARTNER H, ZINKERNAGEL RM
---
Domaines de recherche
BIOLOGIE MOLECULAIRE
EMBRYOGENESE
ONTOGENESE
METABOLISME